As a type of heat therapy, paraffin wax treatments are frequently utilized for musculoskeletal problems, such as sports injuries. Paraffin wax is a soft, solid wax. Saline hydrocarbons are used in its production. They alleviate joint stiffness, lessen pain, and promote blood flow, just like with illnesses like arthritis. Paraffin wax therapy is used to treat pulled muscles, sprains, bursitis, and tendinitis. You can also get paraffin wax therapy in Michigan to alleviate joint stiffness.
MedStar Rehabilitation offers the greatest paraffin wax treatment for every person who is looking forward to getting special treatment. It is a colorless, odorless, and tasteless therapy that is frequently used in spa treatments on the hands, cuticles, and feet. It can also be applied to soothe aching muscles and joints. Paraffin wax is used for a wide range of other things. It is extensively employed in the manufacture of candles and crayons, as well as as an electrical insulator and lubricant.
How Our Paraffin Wax Works
The wax we use has undergone sanitary safety testing in a lab. It has no flavor, color, or smell. It enhances blood circulation to the treated area because of its hefty molecular structure. Your hands or feet are treated to heated special paraffin wax. Most of the time, it is left on for 15 minutes or until it cools. Heat therapy for persons with arthritis or rheumatism frequently uses paraffin hand or paraffin foot therapy.
Heat eases pain from arthritis, osteoarthritis, and Fibromyalgia by relaxing the muscles and promoting blood flow. It draws moisture from the skin's deeper layers and holds it in, giving the skin a healthy glow. Any treatments with paraffin soften dry skin and may enhance skin elasticity, promoting greater mobility, particularly in the hands.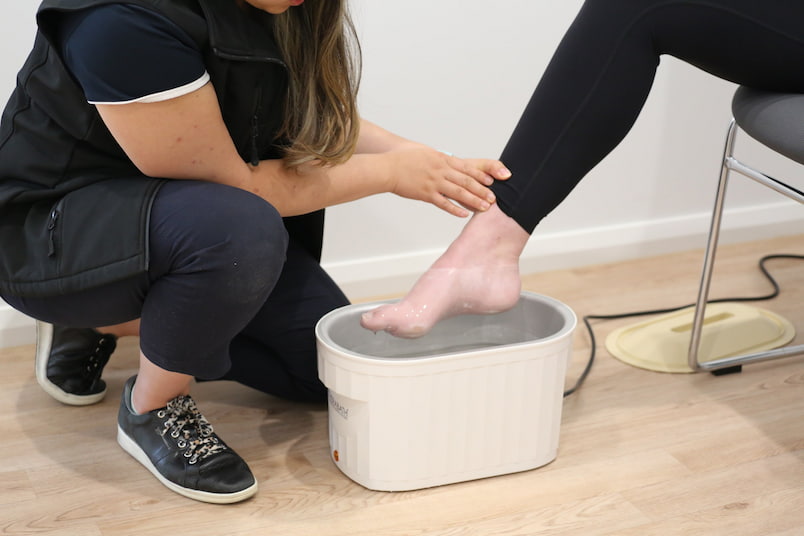 Benefits of Our Paraffin Wax Therapy
Paraffin wax is frequently used on the hands and feet for cosmetic purposes. The wax is a natural emollient that aids in the suppleness and softness of the skin. Paraffin is incredibly powerful in moisturizing because of its big molecules, which remain on the skin's surface and create a barrier that traps moisture, stimulates blood flow, and infuses the skin with its natural oils.
When applied to the skin, it increases moisture levels and keeps doing so even after the treatment is completed. You get the following benefits from our Paraffin wax therapy.
People with osteoarthritis can use paraffin wax to ease their hand pain.

Get Fibromyalgia and rheumatoid arthritis therapy

Additional joint mobility problems can be treated.
It has similar effects to heat therapy and can assist in improving blood flow, alleviating tension in the muscles, and lessening stiffness in the joints. In addition to treating sprains, paraffin wax can help reduce inflammation and muscular spasms. Just remember, paraffin wax cannot be used the same way as other hair removal treatments since it does not adhere to the hair.
What Treatments Do You Get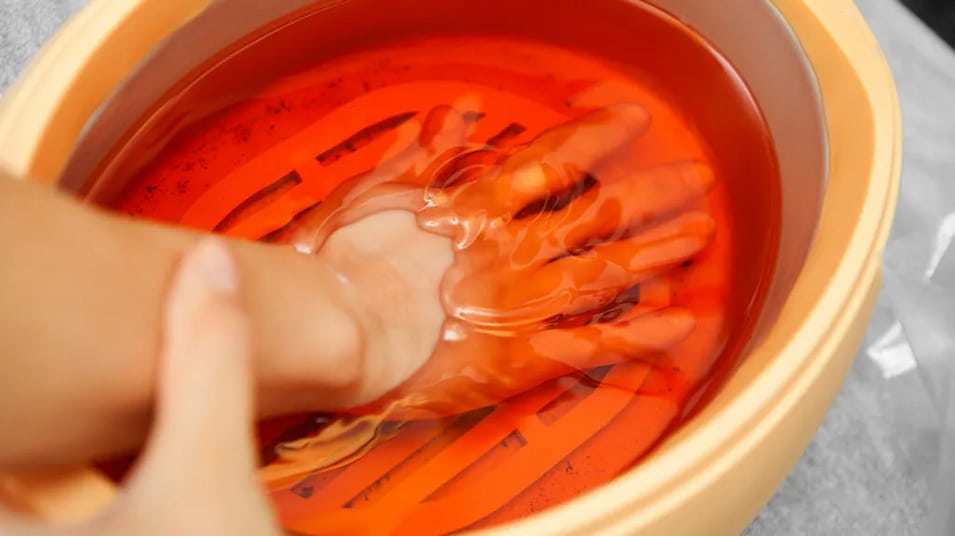 Many disorders can be treated with Therabath paraffin baths. We use paraffin wax to deliver moist heat to your hands or feet to relieve the pain associated with osteoarthritis. With the help of effective physiotherapy, the muscles relax and become more flexible, helping to attain a greater range of motion. In particular, paraffin aids in easing stiff hand and finger joints prior to exercise.
With our paraffin baths, we can cure a variety of ailments. Blood vessels enlarge, and circulation picks up, bringing oxygen to the cells in the affected area and helping to flush out any waste materials that might be causing muscular soreness. Particularly before exercise, paraffin helps loosen up a tense hand and finger joints.
You will feel easy and cozy after you get treated right away. The staff will guide you through the procedure and you can get premium services as well. All of the services are made available to all the regular clients.
Why Choose Us?
We are a specialized team of paraffin wax therapists in Michigan. For more than 20 years, our skilled and compassionate team members have been offering high-quality care. We specialize in treating musculoskeletal issues such as sports injuries, back and neck pain, headaches, dizziness, balance issues, joint and muscle discomfort, and overuse injuries from the workplace.
Are you trying to find a paraffin wax-focused therapy in Michigan? Med Star Rehabilitation has got your back with all the best treatments possible. If you still need the help of any kind, you can make a call at (734) 844-0800 to talk with our professionals and get specialized treatment. Our staff will help you with the best advice. The paraffin wax service offered will assist in making your skin smooth if it is dry or cracked as a result of a medical condition, extreme cold, or stress.