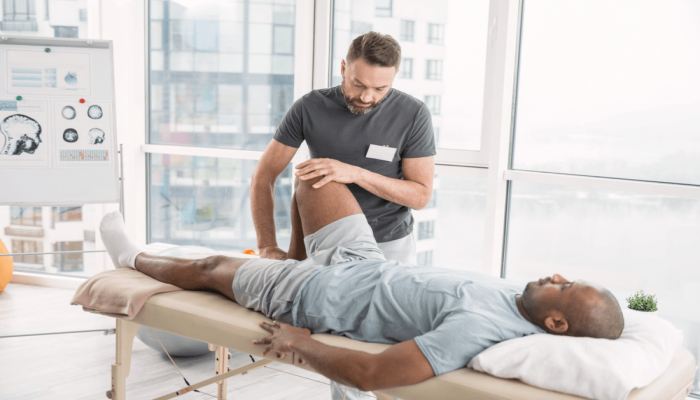 A Sound Mind Dwells In a Sound Body
It is a fact that if you are physically fit then you will be mentally fit as well. But are you ignoring the signs your body is giving you? Or your body is not responding the way you want it to respond? These are certainly some questions that you should ask yourself.  If you find such signs in your body, rather than going for allopathic medications, paying doctor's fees, go for physical therapy that cures all your pains and cures the pain from its roots.
What is Therapy?


Therapy is also known as treatment, where a health problem is solved out after going through a diagnosis. This sort of treatment is conducted by a therapist. Medstar Rehab is a hub of professionally trained therapists that make your life a "painless" one. Medstar Rehab not only provides amazing therapies but can also help you to soothe your mind and body as it located in Michigan, US, the state located in the Great Lakes and Midwestern regions of the United States. There are multifarious types of therapies that are being offered excusively at Medstar Rehab. These are as follows:
What is Physical Therapy?
Physical Therapy is a therapy where healthcare assistance is provided. The assistance includes the evaluation, assessment, and treatment of individuals who are facing problem relating functional mobility. Physical therapists are the ones who help people in providing healthcare facilities and also help in improving functional mobility. Medstar Rehab is the leading firm in regard to physical therapies located in Michigan, US. Medstar Rehab provides effective physical therapies, therapies that help in preservation, enhancement, or restoration of movement and physical function impaired or threatened by disease, injury, or disability.  Such sort of physical utilizes therapeutic exercise, physical modalities (such as massage and electrotherapy), assistive devices, and patient education and training at Medstar Rehab centre, Michigan, US.
Why to go for Physical Therapy?
At Medstar Rehab, people of all ages are welcomed who have medical conditions, illnesses or injuries that has started to limit their regular ability to move properly and function efficiently. We, at Medstar Rehab are dedicated to provide customized physical therapies to people that help people to return to their prior level of mobility and functioning. Medstar Rehab therapists walk with you in your every footstep of your improvement and also promote activities and lifestyle changes that would further help and prevent injury and improve overall health and well being. The therapists at Medstar Rehab help people regardless of age, at the point of time when movement and function are threatened by ageing, injury, diseases, disorders, conditions or environmental factors. Still you are thinking of what makes Physical Therapy important? Here are some factors which can help you to solve your queries regarding Physical Therapy.
Mobility Improvement: Physical Therapy helps in improving mobility. If you are facing a problem in walking or moving regardless of age, then it is high time to consult a physical therapist. We not only go for stretching and strengthening exercises but also provide a customized individual care plan to ensure and adapt maximal performance and safety with the help of certified and experienced therapists at Medstar Rehab, Michigan, US.
Helps in the recovery from the stroke: Whenever any body part suffers from any stroke, then function and movement of the stroke affected are suffered to a great extent. Physical therapy helps you to recover and also helps in improving the gait and balance thus making them more independent.
Prevention or recovery from sports injury: If sports make you fit, it also comes with several risks and injuries. At Medstar Rehab, Michigan, US, designs appropriate recovery or prevention exercise programs so that you can enjoy your favorite sports without any fear.
With Physical Therapy, one can avoid surgery: Yes, you read it right; with physical therapy you can surely avoid surgery. Physical therapy helps you eliminate pain and heal your all sorts of pain that has probably arisen from an injury. This can reverse the or rather save you from a surgery. Besides that by avoiding surgery, one can ensure a reduction in the health care costs also.
Physical Therapy helps in eliminating the pain: The most important fact about Physical Therapy helps in eliminating the pain that you might be suffering from so many years. Medstar Rehab therapists have designed therapies in such a way that even prevent pain from returning back. It provides a complete package of therapeutic exercises and manual therapy techniques such as joint and soft tissue mobilization. It also relieves pain through several treatments such as ultrasound, taping or electrical stimulation that can prove to quite helpful in relieving pain and restoring muscle and joint function thus reducing and finally eliminating the pain.
Helps in the management of heart and lung diseases: Physical therapy is known for improving the quality of life. Physical therapy not only eases your body from all types of pains but also makes your mind relaxed. For the patients who have suffered from cardiac arrest, it is advisable to go through cardiac rehabilitation so as to improve the functioning of the heart. Medstar Rehab located in the beautiful place of Michigan, US, even looks for into the improvement of problems related to pulmonary. By providing strengthening, conditioning and breathing exercises, it takes all efforts to enhance the quality of life. These exercises when performed appropriately help patients to clear fluid in the lungs, for the patients who have faced or are facing difficulty in breathing because of the accumulation of fluids in the lungs.
You must have felt butterflies while going for the first time to a therapist or you might be feeling it now. It is completely natural to feel such a way because your head might be tossing up with so many questions. Try talking to a Medstar Rehab therapist and you can see and feel the change.